New Major SAM4H Release v2.0
Today we are proud to announce the new major release V2 of the Smart Automation Manager For Hitachi, SAM4H. After the successful 3DC implementation in 2020, the much awaited for support for 3 Data Center (3DC) replications, in 2021 we exclusively focussed on specific customer requirements, which help facilitate each storage administrators life. peaq has proven over the years that the company is strong enough to compete with major players when it comes to developing storage management tools and yet light enough to sometimes outperform them.
The first published version of SAM4H in 2016 already strictly followed concrete customer requirements and this paradigm has remained peaq's approach to define and implement new features and functionalities. Now let's have a look at what SAM4H V2 has to offer.
The first thing you'll notice when you start SAM4H V2 is the totally new user interface (UI/UX) layout. The new layout not only appears in a nicer outfit and groups corresponding features better together than the previous version, it also comes with new underlying libraries providing more flexibility for user interactions. As an example, a user may execute a full text search on the task list and filter by any object. As another example, the user can now trigger actions for an interactively selected number of objects directly out of the Cluster LUN report.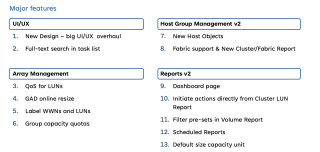 The most important new features in SAM4H V2 can be grouped together in 4 categories as shown above. Besides them, there is a whole zoo of minor improvements, which cannot all be covered here. In the remaining part of this blog let us try and describe all the most exciting and most enhanced features from the release notes of SAM4H V2.
SAM4H v2.0 Release Notes
UI/UX
New design: Besides a cleaner and more modern look with lots of usability improvements, the new design is now fully responsive and works on tablets.
Full-text search the timeline: The array management timeline, displaying all tasks, is now searchable by a full-text search engine powered by Elasticsearch.
Array Management
GAD online resize: GAD online resize is now supported and can be enabled/disabled for each storage array individually.
Label WWNs and LUNs: The long awaited feature of labeling WWNs and LUNs after creation of LUNs / HostGroups is here.
QoS for LUNs: SAM4H will now set QoS settings for LUNs, all powered by our unique config template approach. QoS values are computed dynamically taking LUN sizes into account.
Group capacity quota: Groups already enabled creating tenants in SAM4H. Now, group capacity quotas leverage this approach even more by specifying capacity limits for tenant groups.
Host Group Management
New host objects: This feature simplifies creating new host-groups significantly and brings SAM4H usability to the next level.
Fabric support & new cluster/fabric report: Throughout the whole SAM4H UI, fabrics are now visible and help identifying the right ports.
Reports V2
Dashboard: A new dashboard view helps getting an overview of your Hitachi storage environment.
Initiate actions directly from the Cluster LUN report: From now on, you can directly trigger actions from the Cluster LUN Report. Thanks to all the detailed information available on this report, this is the best place for selecting the proper LUNs and triggering actions in-place.
Presets for volume report filters: The volume report filters were improved to make it even more easy, finding what you are looking for. Thanks to the newly introduced presets, you are able to store filters and retreive them instantly at any time.
Scheduled reports: Every single report can now be scheduled and delivered into your inbox. You even have the choice between inline HTML and PDF.
Default size capacity units: The improved user settings dialogue now offers an option to preset the capacity units. Once set, every report is displayed in the chosen unit size.
Already being established as the state-of-the-art storage management tool for Hitachi storage, SAM4H V2 brings along a whole set of exciting and useful features that help facilitate storage administrators' life even more.